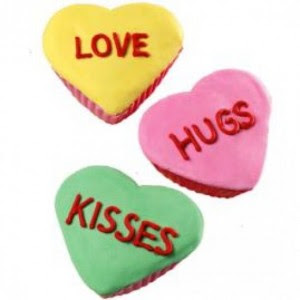 The month of February is a month that is spent celebrating love. There are images of hearts, cards with sweet sayings, roses, the colors pink & red, boxes of chocolates in heart shaped boxes, and I could go on and on. I love those things as any girl would, but for me it is, also, a month I reflect on Heart Disease and my Daddy.
Growing up my daddy always had a card and a box of chocolates in a heart shaped box for me and my sisters every Valentine's Day. He would proudly give them to us every year in the morning before we left for school. I don't remember ever not getting a heart shaped box of chocolate from him on this special day. I received one every year…….even well into adulthood.
You see Daddy, being born in 1926, grew up in the Depression in a single parent family. His father was killed in a farming accident when he was 8 years old leaving his mother with 4 children and one on the way. He was taught from a very young age how to love others by his own mother. She chose to keep the family together when others wanted to split them up. She taught him a love for family that to this day I try my best to to show mine.
Growing up during that time period was quite different than today. They didn't have access to the information that we have today. They didn't know about eating healthy or the dangers of smoking. During that time everyone ate lots of fried foods and smoking was looked at as cool or glamorous and was a part of normal every day life. My dad smoked his first cigarette at a very young age and it continued until just a few years before he died.
My dad passed away Easter Sunday in 2004. If he were alive today he'd be 92 years old. Because he smoked he had his first open heart surgery when I was in grade school. I still remember it to this day. Over the course of his life he had a second open heart surgery (this time a quadruple by-pass), a heart cath where they placed a stint in his artery, lung cancer (removed half of one lung), and then 3 years later he died of a second type of lung can. I still miss him very much and that is why this subject is so dear to my heart.
Based on a study by the American Heart Association, Cardiovascular disease accounts for about 1 in every 3 deaths in the United States. About 2300 Americans die each day from Cardiovascular disease, which is about 1 every 38 seconds. 92.1 million adults in America live with some form of cardiovascular disease. Leading the way is Coronary Heart Disease which accounts for about 44% of those attributed to Coronary Heart Disease.
The sad part about these statistics is that this is a preventable disease. Yes, some are more prone to it than others due to hereditary factors, but at the same time just by adjusting your life style you can help to prevent heart disease. The following are things you can do to reduce your risk of heart disease.
First of all DO NOT SMOKE!!!!!! I truly believe had my daddy not smoked he'd still be here today at 92 years of age going strong. Smoking is one of the top 3 leading risk factors and contributes to more than 480,000 deaths in America each year…….41,000 of those due to second hand smoke.
The second risk factor is physical inactivity. We live in a world of sedentary individuals and my fear is the next generation will suffer even more due to the obsession with video games and activities which require not activity. Based on the research done by the American Heart Association in students grades 9-12 only 27% got the recommended amount of exercise being 60 minutes per day. Also, according to that study girls got less exercise than boys. So…….get up and EXERCISE!!!!! Be active and find something you enjoy doing.
Another risk factor is nutrtition. Being the mother of 4 active boys I understand this. It is so much easier to run through the drive-thru than take the time to pack a more nutritious lunch or dinner. Being on the go there are not a lot of healthy "take-out" options out there. The other problem is processed food. Yes, just like take-out, it is much easier but the affects on our heath far out-weigh the benefits. In moderation these things are not a bad option……..but as a replacement for whole foods……well lets just say there is no comparison. If you look at a label and can't pronounce it……..it's probably not good for you.
Other risk factors include obesity, high-cholesterol, diabetes, and high blood pressure. If you suffer from any of these things your risk for heart disease increases. If you have a family history you should be checked regularly for these things by your physician. Also, during a pregnancy, if you have had gestational diabetes you are at a higher risk for developing Type II Diabetes and should have your blood sugar levels check periodically…….even if you appear to be in good shape.
Taking care of ourselves by not smoking, eating right, exercising, and having regular check-ups can reduce the risk of heart disease tremendously. We owe it to the loves of our lives………our family. This Valentine's Day one of the best gift you can give those you love is to take care of your heart and to be healthy for them for a long time to come. Have a wonderful Valentine's Day and give those you love a HUGE hug.
(All statistics from "Heart disease and stroke statistics 2018 update: a report from the American Heart Association," published online ahead of print January 31, 2018. DOI: 10.1161/CIR.000000000000058.)