Certified Fitness Trainer ISSA
ISSA Certified in Fitness Nutrition
Independent Distributor for Advocare
NPC Figure Competitor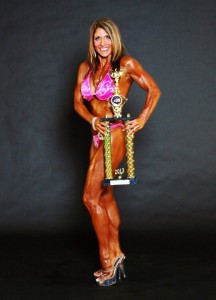 Faith Fitness by Tracey came about after coming full circle on a journey with fitness highs and lows. After struggling as a young girl with weight fluctuations, God brought opportunity after opportunity, some taken and some not, to share my story and my passion and love with others who find themselves stuggling with their weight, health, and fitness. Finally I want to follow his plan for me to help those who fight their self-image…..to see themselves as "fearfully and wonderfully made."
If you are wondering who Tracey Petter is and why she is qualified here is a quick run down. I am the mother of 4 boys ages 19, 17, 15, and 12. I have been married for almost 26 years to a wonderful man who has the same passion for healthy living as I do. I have been a Figure competitor since 2004. I have competed in both the INBF and the NPC. I am a certified fitness trainer with my certification through ISSA as well as being certified in fitness nutrition through ISSA as well. I also have a BBA in Finance from the University of North Texas. I have been involved in the fitness industry for over 13 years.
My first Figure competition was the 2004 Texas Shredder where I placed 5th in the Class A Open category. I have competed every year since except for 2005 when I was expecting my 4th child. In 2013 I competed in the NPC Heartland Classic and received 1st place in the Masters Figure division. I, also, placed 4th in the Masters 45+ Division is 2015 of the NPC Heart of Texas Classic.
Health and fitness are my true passions and I have a God-given desire to share my passion to help people be as healthy as they can be.